Please follow and like us:
This is Halloween. Everyone make a scream.
I had the pleasure of experiencing Universal Studio's Orlando Horror Nights – where horror films come to life. The entire park is transformed with mist, monsters, scares zones and packed with (9) nine haunted houses. I will provide some tips to ensure you have the best experience at the park.
IS IT SCARY?
Yes, whether you always have nightmares after a horror flick or you would never get scared if the devil himself rose from the dead – you will definitely be surprised at some point. It is more fun than scary, but only if you enjoy being scared. I would not recommend Horror Nights for kids under the after of 13; however, if they are brave and partnered with a parent – I'm all for it. This amusement park truly goes above and beyond to ensure you have the best Halloween experience ever.
WHICH TICKET TO BUY
The Horror Nights entry ticket does not give you entry into the park during the day. If you're spending a weekend in Orlando, I highly suggest to enjoy Islands of Adventures as well as Universal Studios. Both parks are packed with action and magic. If you have already been to Islands of Adventure and just want to experience the Halloween action, just get a ticket for Horror Nights. For more details on tickets, check out www.halloweenhorrornights.com/orlando. 
IS THE EXPRESS PASS WORTH IT?
Yes, it is. The express pass ticket is worth more than the entry ticket to horror nights. No, it is not a trick. I believe they do this to make money, but also to keep the express line short. You normally don't have to wait long if at all. I'm talking about 30 seconds to maximum 10 minutes versus the average line may be 20 minutes to two hours.
Also, the express pass works on most of the rides of the park as well. So the overall experience of waiting in lines for rides is diminished. I hate waiting in lines. Thanks to the express pass, I was able to do every ride in the park as well as see every show and visit every scare zone and haunted house – all without rushing! It is possible to do all the haunted houses in one night without a express pass, but you will need to be motivated to keep it moving and not take too many breaks. If you want to enjoy the park with ease, get the express pass. It's not mandatory but well worth it if you hate waiting in long lines.
GRAB A MAP
As soon we you walk in, you may be distracted by characters of your favorite horror movies scaring you into oblivion; however, grab a park map. This is your key to systematically make your way around the park so you don't have to waste any time.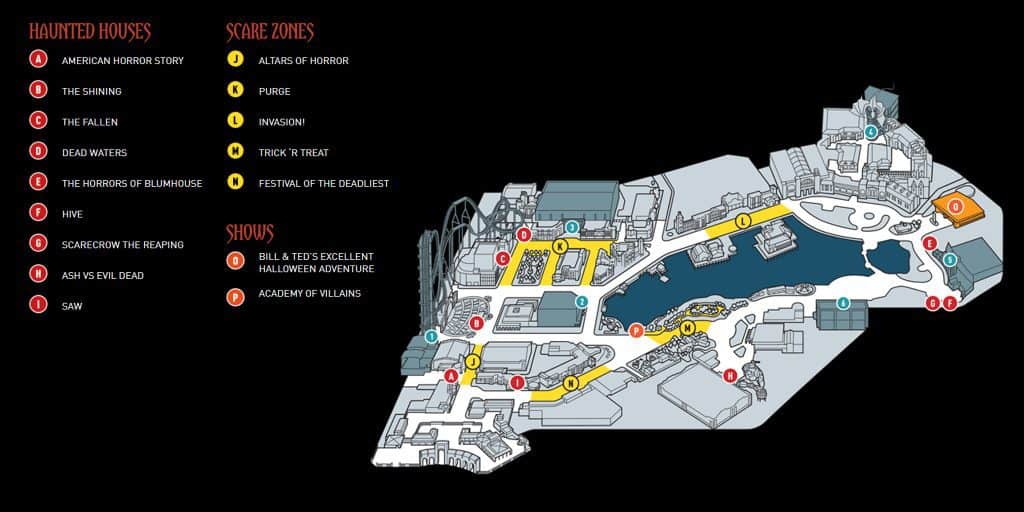 GET THE APP
There is an handy app from Universal Studios that will tell you all the wait times to all of the haunted mazes. You don't want to follow the herd, make your own path to maximize your time. You can download the app in the Apple store or Google Play.
WHAT ARE THE BEST HALLOWEEN HOUSES
Honestly, all of the haunted houses were highly entertaining and terrifying. This is how I would rank in terms of my personal favorites.
SAW
HIVE
AMERICAN HORROR STORY
SCARECROW THE REAPING
DEAD WATERS
THE FALLEN
THE HORRORS OF BLUMHOUSE
THE SHINING
ASH VS. EVIL DEAD
SEES THE SHOWS
The Academy of Villains are a dance troupe that put on a phenomenal 12 1/2 minute show and every second is worth it. You will only want more. Don't miss it!
SIT ON A BENCH IN ONE THE SCARE ZONES
I won't ruin any of the scare zones. You'll have to experience them for yourself – but let's just say I felt like I was in the Purge Movie. Take a moment and take in the horrifying world around and you will be highly entertained seeing other people get scared and even yourself.
Halloween is here. If you got to enjoy Horror Nights, tweet me your experiences and photos! If you are interested in attending next year, let me know as well. You now have all the tips to maximize your experience at Universal Studios Horror Nights.
Please follow and like us: